Porsche 718 Boxster
What is it that makes the new 718 models so special? Their performance, their handling, their design and the generous amount of space afforded by two luggage compartments. Above all: a mid-engine layout that makes all this possible in the first place.
The engine is positioned no further than 12 inches behind the driver. Effect number one: the resounding thump on the back. Effect number two: the extraordinarily dynamic cornering capabilities, thanks to the car's low and central center of gravity. The horizontally opposed arrangement of the engine's cylinders also helps to reduce oscillations, which has a positive impact on smooth running. Another plus for driving dynamics: the concentrated power of the engine is transmitted directly to the rear axle.
How do we best exploit this power? By systematically reducing the weight of the vehicle. And by optimally distributing the weight left over. The compact construction off the car as a two-seater plays an important part in this respect. And that's without sacrifices in terms of comfort and everyday practicality.
However, as soon as the mid-mounted engine starts, there's really only one thing that matters: the world with its countless twists and turns. And you – right in the middle of it all.
---
718 Boxster
The new Boxster continues the spirit of the 718 era with its four-cylinder turbocharged boxer engine that has delivered countless podium finishes. These mid-engined roadsters feature a more sportier design than the previous Boxster model and even a sportier chassis setup with improved performance, comfort and assistance systems. With up to 350 horsepower at the disposal of your right foot, what's not to love about the new 718 Boxster?
---
718 Boxster
From $57,400*
300 hp  /  4.9 sec 0-60 mph  /  170 mph top speed  /  Rear Wheel Drive
Notable Standard Features:
2.0-litre four-cylinder turbocharged boxer engine producing 220 kW (300 hp) and 380 Nm
18-inch Boxster and Cayman wheels
Four-Piston aluminium monobloc fixed brake calipers in red, front and rear
Bi-Xenon main headlights
Centrally positioned single-tube tailpipe
SPORT button
Porsche Communication Management (PCM) including mobile phone preparation and Sound Package Plus
Net-type wind deflector
---
718 Boxster S
From $69,800*
350 hp  /  4.4 sec 0-60 mph  /  177 mph top speed  /  Rear Wheel Drive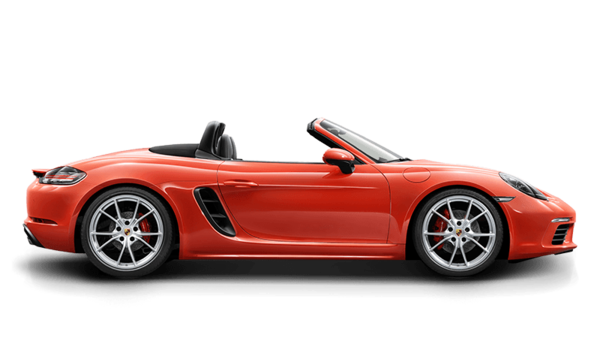 Notable Standard Features:
2.5-litre four-cylinder turbocharged boxer engine producing 257 kW (350 hp) and 420 Nm
Variable turbine geometry (VTG)
19-inch Boxster S or Cayman S wheels
Four-piston aluminium monobloc fixed brake calipers in red, front and rear
Bi-Xenon main headlights
Centrally positioned twin tailpipe
Porsche Communication Management (PCM) including mobile phone preparation and Sound Package Plus
SPORT button
---
718 Boxster GTS
From $81,900*
365 hp  /  4.4 sec 0-60 mph  /  180 mph top speed  /  Rear Wheel Drive
---