Porsche Panamera
Sixty-nine years ago, we decided we wouldn't fear what the world had to say about our cars. We would simply make the cars we wanted. Dreamed of, rather.
Today, this disdain for the status quo continues with yet another sports car in a never-before-seen form. Five-hundred and fifty horsepower. Four Seats. Zero compromise.
The way it looks. The way it sounds. The way it performs. The Panamera challenges the notion of the conventional sedan from every angle.
Panamera Models:
Panamera
Panamera 4
Panamera 4 Sport Turismo
Panamera 4 Executive
Panamera 4S
Panamera 4S Sport Turismo
Panamera 4S Executive
Panamera 4 E-Hybrid
Panamera 4 E-Hybrid Sport Turismo
Panamera 4 E-Hybrid Executive
Panamera Turbo S E-Hybrid
Panamera Turbo S E-Hybrid Executive
Panamera Turbo S E-Hybrid Sport Turismo
Panamera Turbo
Panamera Turbo Sport Turismo
Panamera Turbo Executive
---

---
Panamera, 4, S
Panamera from $85,000*
Panamera 4 from $89,600*
Panamera 4s from $103,000*
Panamera – 330 hp  /  5.4 sec 0-60 mph  /  28 mpg (highway)  /  Rear Wheel Drive
Panamera 4 – 330 hp  /  5.2 sec 0-60 mph  /  27 mpg (highway)  /  All Wheel Drive
Panamera 4S – 440 hp  /  4.2 sec 0-60 mph  /  28 mpg (highway)  /  All Wheel Drive
Notable Standard Features:
3.0 liter turbo V6 producing 330 hp and 331 lb.- ft.- Panamera, 4
2.9 liter twin-turbo V6 engine producing 440 hp and 405 lb.-ft.- Panamera 4S
8-speed Porsche Doppelkupplung (PDK) with Auto Start Stop function
19-inch Panamera wheels- Panamera, 4
19-inch Panamera S wheels- Panamera 4S
Six-piston aluminium monobloc fixed calipers at front, four-piston aluminium monobloc fixed calipers at rear
Air outlet grills painted in black (high-gloss)- Panamera, 4
Adaptive Air Suspension incl. Porsche Active Suspension Management (PASM)- Panamera 4s
Porsche Traction Management (PTM) active all-wheel drive- Panamera 4, 4S
Porsche Communication Management (PCM) including navigation, Connect Plus
Interior package in black (high-gloss)
---
Panamera 4 Sport Turismo, S
Panamera 4 Sport Turismo from $96,200*
Panamera 4S Sport Turismo from $109,200*
Panamera 4 Sport Turismo – 330 hp  /  5.2 sec 0-60 mph  /  160 mph top speed  /  All Wheel Drive
Panamera 4S Sport Turismo – 440 hp  /  4.2 sec 0-60 mph  /  177 mph top speed  /  All Wheel Drive
Notable Standard Features:
3.0 liter turbo V6 producing 330 hp and 331 lb.- ft.- Panamera 4
2.9 liter twin-turbo V6 producing 440 hp and 405 lb.- ft.- Panamera 4S
4+1 seating concept, seat heating
19-inch Panamera S wheels
Panoramic roof system
8-speed Porsche Doppelkupplung (PDK)
Porsche Traction Management (PTM), active all-wheel drive
Luggage compartment capacity of 18.3 cu.-ft. (seats up) – 49.0 cu.-ft. (seats folded)
Porsche Communication Management (PCM) including online navigation, Connect Plus
---
Panamera 4 Executive, S
Panamera 4 Executive from $96,300*
Panamera 4S Executive from $113,900*
Panamera 4 Executive – 330 hp  /  5.3 sec 0-60 mph  /  162 mph top speed  /  All Wheel Drive
Panamera 4S Executive – 440 hp  /  4.3 sec 0-60 mph  /  179 mph top speed  /  All Wheel Drive
Notable Standard Features:
3.0 liter turbo V6 producing 330 hp and 331 lb.- ft.- Panamera 4
2.9 liter twin-turbo V6 engine producing 440 hp and 405 lb.-ft.- Panamera 4S
8-speed Porsche Doppelkupplung (PDK) with Auto Start Stop function
19-inch Panamera wheels- Panamera 4
19-inch Panamera S wheels- Panamera 4S
Six-piston aluminium monobloc fixed calipers at front, four-piston aluminium monobloc fixed calipers at rear
Adaptive Air Suspension incl. Porsche Active Suspension Management (PASM)
Porsche Traction Management (PTM) active all-wheel drive
Porsche Communication Management (PCM) including navigation, Connect Plus
Rear-axle steering including Power steering Plus- Panamera 4S
Heated 8-way power rear seats; power sunblind for rear- Panamera 4
---
Panamera 4 E-Hybrid, Executive
Panamera 4 E-Hybrid from $99,600*
Panamera 4 E-Hybrid Executive from $104,100*
Panamera 4 E-Hybrid – 462 hp Total Output  /  4.4 sec 0-60 mph  /  172 mph top speed  /  All Wheel Drive
Panamera 4 E-Hybrid Executive – 462 hp Total Output  /  4.5 sec 0-60 mph  /  172 mph top speed  /  All Wheel Drive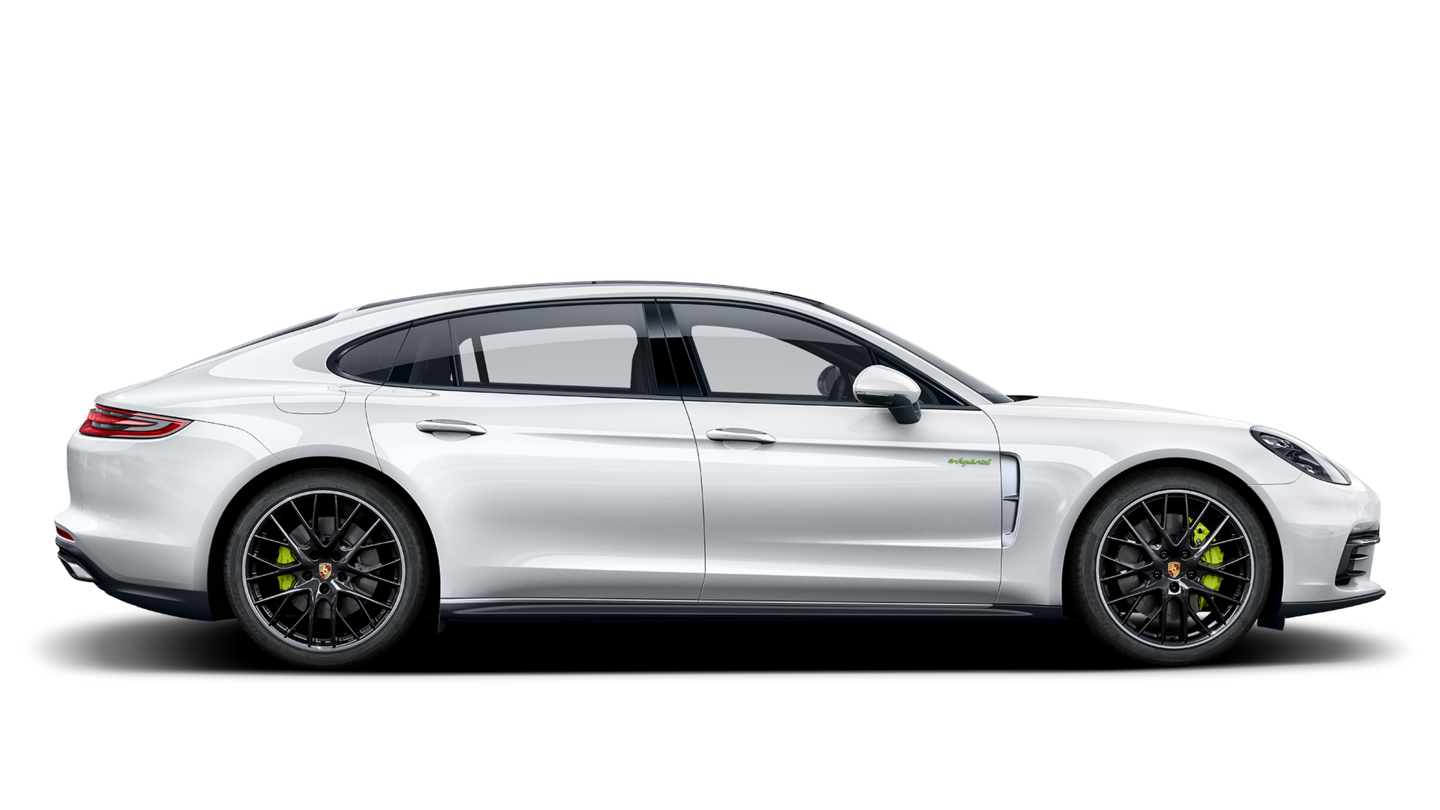 Notable Standard Features:
2.9 liter twin-turbo V6 engine producing 330 hp and the electric motor producing 136 hp, total output: 462 hp 516 lb.-ft
8-speed Porsche Doppelkupplung (PDK) with Auto Start Stop function
19-inch Panamera wheels
Six-piston aluminium monobloc fixed calipers at front, four-piston aluminium monobloc fixed calipers at rear, acid-green brake calipers
Adaptive Air Suspension incl. Porsche Active Suspension Management (PASM)
Porsche Traction Management (PTM) active all-wheel drive
Porsche Communication Management (PCM) including navigation, Connect Plus
Porsche Connect Plus
---
Panamera Turbo S E-Hybrid, Executive, Sport Turismo
Panamera Turbo S E-Hybrid from $184,400*
Panamera Turbo S E-Hybrid Executive from $194,800*
Panamera Turbo S E-Hybrid Sport Turismo from $188,400*
Panamera Turbo S E-Hybrid – 680 hp total output  /  3.2 sec 0-60 mph  /  192 mph top speed  /  All Wheel Drive
Panamera Turbo S E-Hybrid Executive – 680 hp total output  /  3.3 sec 0-60 mph  /  192 mph top speed  /  All Wheel Drive
Panamera Turbo S E-Hybrid Sport Turismo – 680 hp total output  /  3.2 sec 0-60 mph  /  192 mph top speed  /  All Wheel Drive
Notable Standard Features:
4.0 liter twin-turbo V8 engine 550 hp, Electric machine 136 hp 4.0 liter twin-turbo V8 engine 550 hp, Electric machine 136 hp
Maximum system power output 680 hp
Active all-wheel drive with PorscheTraction Management (PTM)
Differentiation features in Acid Green
8-speed Porsche Doppelkupplung (PDK)
Porsche Dynamic Chassis Control (PDCC Sport) and Porsche Torque Vectoring Plus- Hybrid
21-inch 911 Turbo Design wheels
Sport Chrono Package with Launch Control
Panoramic sunroof, four-zone air conditioning system, ambient lighting with rear compartment interior lighting scheme- Executive
---
Panamera 4 E-Hybrid Sport Turismo
From $104,000*
462 mph total output  /  4.4 sec 0-60 mph  /  170 mph top speed  /  All Wheel Drive
Notable Standard Features:
ParkAssist including reversing camera
4+1 seating concept, seat heating
19-inch Panamera S wheels
Panoramic roof system
8-speed Porsche Doppelkupplung (PDK) including Sport Chrono Package
Porsche Traction Management (PTM), adaptive air suspension including Porsche Active Suspension Management (PASM)
Luggage compartment capacity of 15 cu.-ft. (seats up) – 45 cu.-ft. (seats folded)
Porsche Communication Management (PCM) including online navigation, Connect Plus
---
Panamera Turbo, Sport Turismo, Executive
Panamera Turbo from $150,000*
Panamera Turbo Sport Turismo from $154,000*
Panamera Turbo Executive from $160,000*
Panamera Turbo – 550 hp  /  3.6 sec 0-60 mph  /  190 mph top speed  /  All Wheel Drive
Panamera Turbo Sport Turismo – 550 hp  /  3.6 sec 0-60 mph  /  188 mph top speed  /  All Wheel Drive
Panamera Turbo Executive – 550 hp  /  3.7 sec 0-60 mph  /  190 mph top speed  /  All Wheel Drive
Notable Standard Features:
4.0 liter twin-turbo V8 engine producing 550 hp and 567 lb.-ft.
4+1 seating concept, seat heating, driver memory package- Sport Turismo
8-speed Porsche Doppelkupplung (PDK) with Auto Start Stop function
20-inch Panamera Turbo wheels
Panoramic roof system- Sport Turismo
Six-piston aluminium monobloc fixed calipers at front, four-piston aluminium monobloc fixed calipers at rear, red brake calipers
Adaptive Air Suspension incl. Porsche Active Suspension Management (PASM)
Porsche Traction Management (PTM) active all-wheel drive
Porsche Communication Management (PCM) including navigation, Connect Plus
Luggage compartment capacity of 18.3 cu.-ft. (seats up) – 49.0 cu.-ft. (seats folded)- Sport Turismo
---